Charlton Brown have been leading the Masterplanning and Urban Design for a new Garden Village in Northamptonshire. The project began on site in 2020.
Deenethorpe Airfield, formerly used during WWII, will be transformed into a productive, distinctive and sustainable new settlement know as Tresham Garden Village. It will provide:
1,500 low-energy mixed tenure homes including self & custom build;
one job per household on site and creative workshops in refurbished WWII Nissen Huts;
excellent community facilities including a new all-through school and Village Hub Community Hall with Village Trust offices;
an integrated retirement cluster;
and a network of multi-functional green and blue spaces connecting across the village.
The airfield's existing main runway will be transformed into a tree-lined "Runway Avenue", creating a linear park with opportunities for public art memorialising its important history.
Contemporary methods of construction will be employed to build the village. An on-site Construction Skills Centre will engage and up-skill the local labour force providing jobs and opportunities for local young people. A consortium of SME builders have been engaged with to deliver high quality, low-energy homes; an approach which purposefully circumvents volume house builders to open up opportunities for alternative high quality construction methods.
This is the first development in the UK to employ Natural Capital Accounting and Ecosystems Services to inform the masterplanning process. Our team worked with local stakeholders representing a range of local government, statutory agency and third sector organisations with environmental interests in the development and followed recommendations of a natural capital impact assessment by Natural Capital Solutions.
We adopted a multi-disciplinary approach to improve and protect the natural environment through our design proposals. Working in partnership with local stakeholders and environment professionals we developed six overacting strategies to ensure a landscape-led masterplan:
1) Re-connect fragmented woodland and create a tree canopy above the roofline by planting 86,000 saplings to grow new blocks of woodland around the site in addition to planning for healthy street trees within the site;
2) Create central Y-shaped green-blue infrastructure including a mosaic of biodiverse wildlife habitats, parklands, community orchards, allotments and lakes to draw the natural environment in to centre of the new village;
3) Re-use construction spoil to prevent off-site waste and create elevated woodland pastures that attenuate the micro-climate and provide forest views and woodland walks;
4) Design water sensitive urban drainage with balancing lakes to east and west creating amenity value and lakeside frontages. New lakes connect to existing watercourses, improving water quality of the local Willow Brook, and creating opportunities for new wetland habitats that connect with SuDs and Swales across the village;
5) Protect existing SSSI and Ancient woodlands with no or limited human access and 30m deep, thickly planted woodland buffers including a dense scrub understory. New green connections across the site provide good access to nature for people including community orchards and allotments, and rides into the new woodlands;
6) Biodiverse habitat creation including woodlands, wildflower meadows, orchards, allotments and wet grasslands.
The involvement of, and benefit to, local people has been considered throughout the development process to the delivery of services, community facilities and day to day management of village life vis-a-vie long-term stewardship of the landowners; the Deene Park Estate.
Watch this space for more information as the project progresses.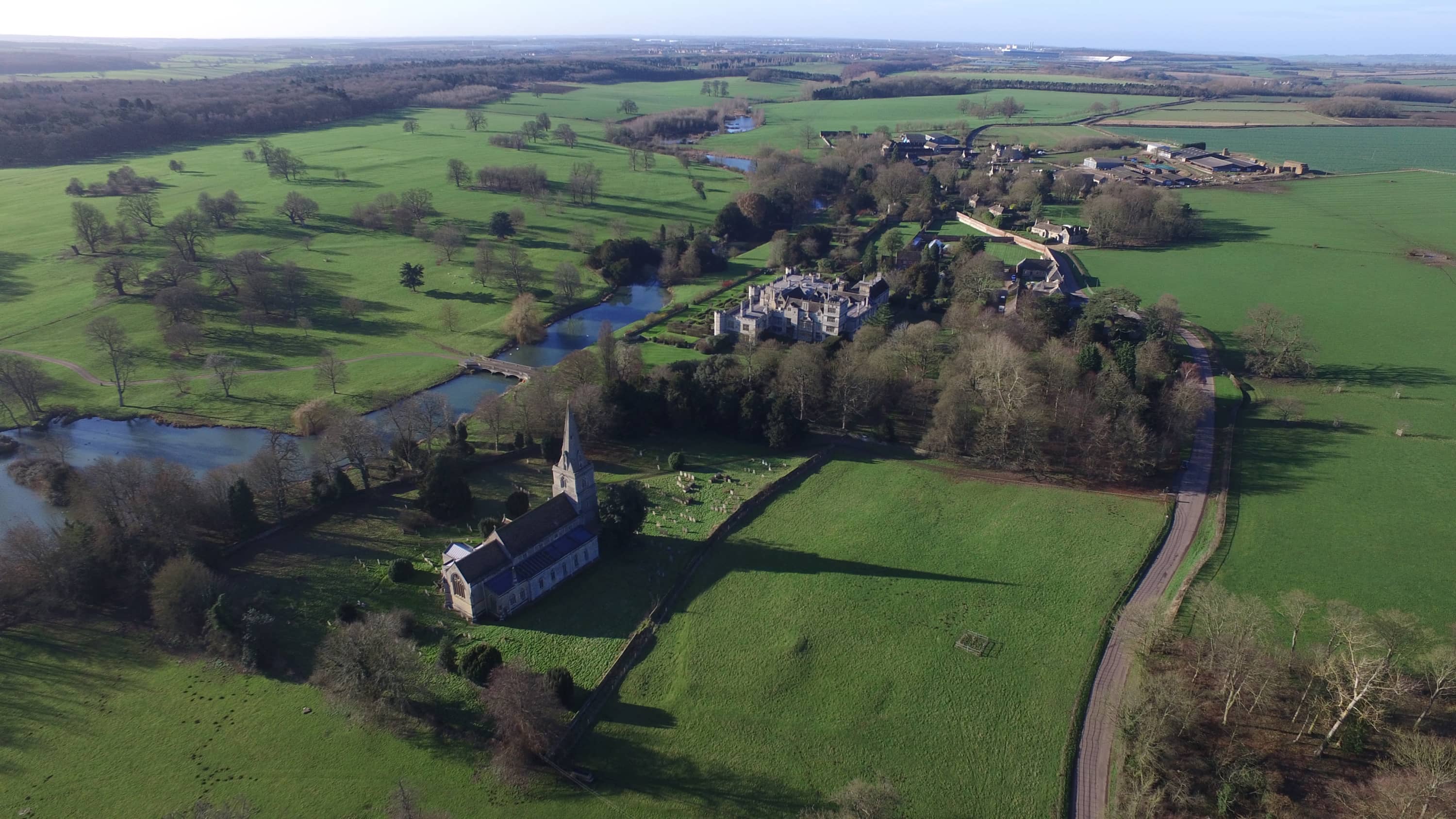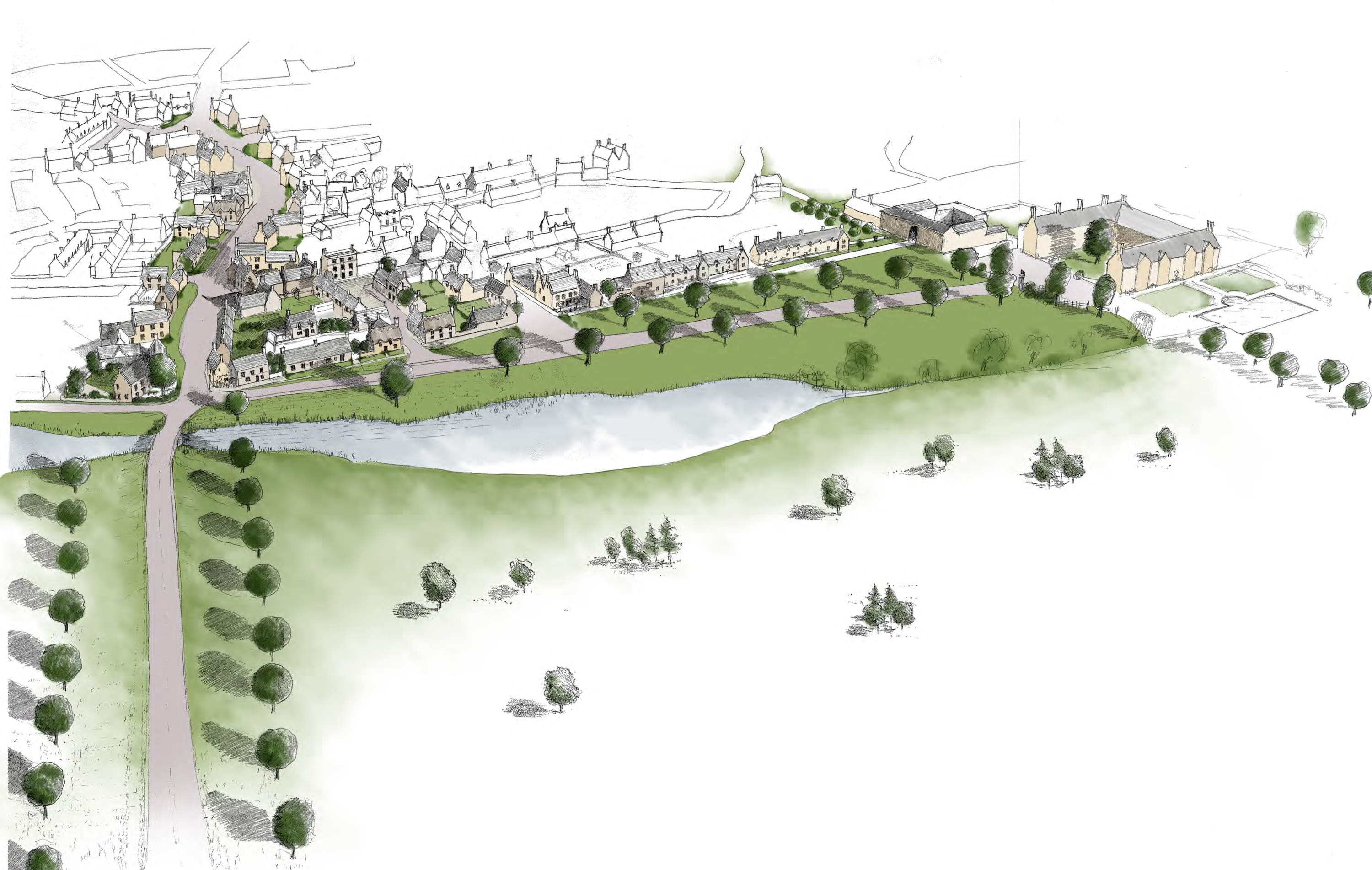 1 / 6